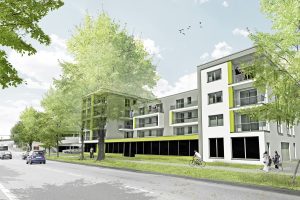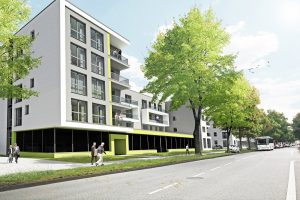 Our administrative office and our classrooms are located in Neue Kasseler Straß 12H, only a few minutes' walk from Marburg's main station.
There, the five new buildings of the project "Allee Nordend" present themselves in an impressive contemporary architecture.
The eight light-flooded training and seminar rooms in the building "Living" are located on the ground floor on an area of 600 square meters and are barrier-free accessible.
The individual rooms have an area of 25 – 55 square meters and adapt flexibly to the space requirements through flexible folding walls.
The rooms are distinguished by their elegant and clear ambience with a modern, functional design and offer the ideal place for creative and productive work together.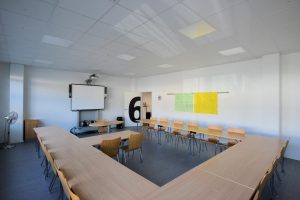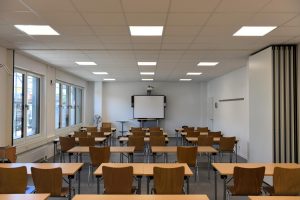 Creating a positive classroom atmosphere is a task we take very seriously, as both the layout and furnishings directly influence students' motivation for learning. All of our spaces also include many modern teaching aids in order to allow for a greater methodological diversity when teaching and to maximize learning efficiency.
All classrooms are equipped with interactive smartboards and have modern teaching media that not only increase learning efficiency, but also boost motivation and ensure methodological diversity.